Assignment 3: Role Play on Landscape Democracy "movers and shakers"
Jump to navigation
Jump to search
--> Back to Assignments Overview
Time frame
Weeks 5 – 6: 28.04. - 05.05.2016
Task description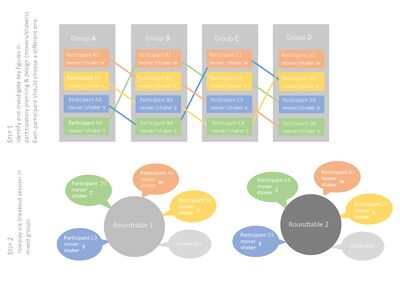 Landscape democratic work is not for everyone. in this assignment, you will identify and investigate key figures in participatory planning and design--which we will call "movers and shakers" of landscape democracy.
Each group will be asked to role-play and present the work/life/theories/beliefs of a designer or planner who has been active in promoting democratic work. In depicting the designer/planner, think of his/her personal background and history, the ethical challenges they have faced, the type of processes they engaged in, who they worked with, and what theories or individuals they were informed by in their studies, research, and/or practice.
You may choose to represent their work either from their own personal perspective or through the perspective of the communities and places they worked on/in;.
The objective of this assignment is to make learning more active and to increase your awareness of the inter-relatedness of education, personal history, socio-cultural milieu, skills and attitudes in shaping the professional trajectory of past and future democratic designers and planners. It should also reveal a set of ethical and value-driven positions that may be shared across practitioners in participatory design and planning (as you discuss these issues, you should keep Hester's 'practitioner types' discussed in in 'Whose Politics do you Style'.
Practical aspects
The role play will take the form of a virtual roundtable. Please see the graophic for a visual representation of this process
The role plays will take place again in breakout room sessions, please have your headsets/cameras ready
Each group should prepare 2-3 questions around which your virtual discussion round will evolve
The duration of each group' role play is around 10-15 minutes, depending on the number of participants.
'Mover and Shaker' Selection List
Please add your name to the 'Mover and Shaker' you would like to role play
You will need to do some own research in order to find out more about these presonalities
In order to achieve some diversity each 'Mover and Shaker' should be selected by not more than three participants
---> 'Mover and Shaker' Selection List
Submission format and presentation
Group work:
A list of movers ad shakers and some references to their work will be introduced in the first session of phase B 'Concepts of Participation' on 28th of April.
Each individual will select a participatory designer/planner to role play
The groups select one participatory designer/planner (per group) and reflect on their value schemes, theories and approaches to present back to the larger class
The group prepares for the role play which will be organized in the form of 'virtual roundtables' on 5th of May 2016.
Evaluation criteria
Relevance and comprehensiveness of aspects derived from the analysis
Quality of oral presentation (i.e. keeping time limits, clarity)