LED2LEAP Intensive Programme Miskolc 2021
Jump to navigation
Jump to search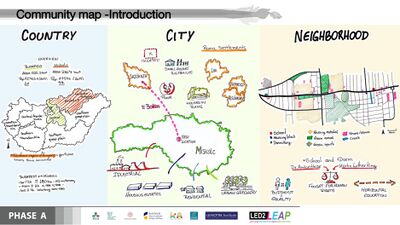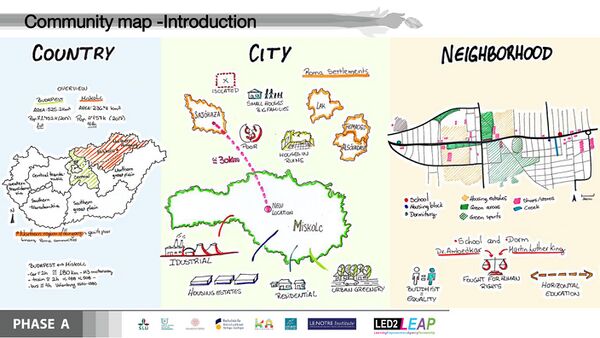 Documentation
Introduction
The first LED2LEAP intensive program will be held in the North East region of Hungary, in Miskolc, the 4th biggest city of the country. Participants will have the opportunity to apply the methods and tools we have learned during our online course.
The intensive programme takes place from August 24 to September 4, 2021, in two locations: the dr Ámbédkar School and the Martin Luther King Dormitory. Miskolc has a significant Roma community and the school programme is mainly focusing on this local group. They provide them with another chance to break out from the general poverty they are in still today.
Participants of this intensive programme will have the opportunity to meet the school community and other stakeholder groups and work together on creating a more supportive, healthier and inspiring environment for the youth and also for the local community.
This project is part of the LED2LEAP Living Lab in Hungary.
For more information on this Living Lab, please visit their Facebook Page.
Story of the School and the Dorm
Dr Ámbédkar School was established in 2007 in Sajókaza with the help and support of the Indian Jai Bhim Community. The aim of the school is to open up the possibility of further education in communities where the proportion of graduates does not reach 1%. With the help of the many local, national and international organisations and foundations, 113 adults have completed their primary school education and 114 people have taken their graduating exam in a given subject in the past 13 years.
In 2018, funding from the Hungarian Government made possible the establishment of the Martin Luther King Dormitory, which closely assists the work of the school. During the dorm's inauguration ceremony, Félix Farkas, the Parliamentary Roma Nationalist Spokesman, cut the ribbon.
The financial background of the school and the dormitory is still not stable. They regularly receive donations but it is really hard to develop their environment in an efficient way from donations. The school and dorm are located 2.3 km away from each other.
Website of the school: http://www.ambedkar.eu/
Workshop locations in Miskolc
Landscape democracy challenges in Miskolc
During our intensive programme, the following questions will guide our process:
How might a democratic project in the school help the whole community?
How might a school become a catalyst for the community?
How might we support a disadvantaged community without intervening too much?
What kind of interventions could create better circumstances for learning?
How might we increase safety and security in the neighbourhood?
How might we create a better connection between the school facilities?
How might the school influence the surrounding public spaces?
How could the learning environment effect the future of these young people?
Workshop Dates
Travel day: Thursday, 26th of August 2021
IP working days: 27th of August - 3rd of September
Travel day: Saturday, 4th of September
LED2LEAP Partner Institutions are:
LE:NOTRE Institute (coordinating institution) an international foundation based in Wageningen, Netherlands
Nürtingen-Geislingen University, Germany
Hungarian University of Agriculture & Life Sciences Faculty of Landscape Architecture - Budapest, Hungary
KulturActiv an NGO - Budapest, Hungary
University of Bologna Department of Architecture, Bologna, Italy
ETABETA an NGO Bologna, Italy
SLU Swedish University of Agricultural Sciences, Uppsala, Sweden
ERASMUS+ Strategic Partnership Programme