LED2LEAP 2020 - Freising Team 4
Jump to navigation
Jump to search
>>>back to working groups overview
Area
please enter the area name here
Place
please enter the town/village name
Country
please enter the country here
Topics
please enter the main coast-related topics here
Author(s)
Please enter your name(s)- optional
Landscape Democracy Rationale
Chosen community now is on the edge of changes, and the process of these changes needs to be stimulated with innovative aprroaches. Landscape democracy makes it possible for every stakeholder to be heard, and that can be achieved with the help of democratic instruments. The inevitability of change conception is applicable to our case, because it reveals the recurrence of landscape story. Now we see the site in period of uncertainty and in need of reorganization. At the same time actors want to concervate the best key assets of landscape, which will be the best solution after renovating and growth of democracy in the community.
Location and scope
Location: Olympic rowing regatta course Oberschleißheim, Freising-Dachau region, Bavaria, Germany.]]
Next to showing us where you are, you may also use this map to localise different focus themes of your community
Phase A: Mapping your Community
Welcome to your community and its landscape
The only regatta course in southern Germany out of 5 all over Germany
Protected landscape area (landschaftsschutzgebiet)
Recreational oasis (naherholungsoase)
The regatta center's first plans were developed in the late 1960's. It was built to host the rowing and canoeing events of the 1972 Olympic Games. Oberschleißheim was chosen because of its closeness to Munich, making it an ideal location for post-Olympic usage. It was designed to accommodate 25,000 spectators. The course is 2 kilometers long and 135 meters wide.
Below file is the Location of the project in which is in Upper Bavaria state, Germany.
Groups of actors and stakeholders in your community
Locals, tourists (local explorers of hike, bicycle, ski routes, travellers, foreigners)
Athletes (national, foreign, training, non-professional sportsmen, former athletes, sport associations)
Business owners and retailers (small shops, cafes, other services)
Municipalities, landowners (decide on the future scenarios of the place)
Churches, banks, hospitals, universities, police.

Visitors want to see this place as a flourishing site, they need to have access to different sport activities, social events, shopping points, want safety and comfort.
Municipalities and landowners want to see Regatta course as a profitable place.
Everybody needs Eco-friendly democratic scenarios of renovation.
Below picture shows the relationship between different actors/stakeholders in this project
Relationships between your actors and groups
Visitors of all social groups have many shared interests, mainly recreational.
Governmental and political stakeholders are interested in providing well-being, health and safety, while the most visible actors (direct visitors) wish to accept it.
Athletes and regular visitors can have conflicts on the base of using the same territory simultaneously.
Government and land-owners are interested in Regatta's site being economically sustainable.
Phase B: Democratic Landscape Analysis and Assessment
The Scene in your Story of Analysis
Olympic Regatta course and surrounding communities. Regatta site is located closely to Munich (within 5 km). Ever since the 1972 olympics the regatta course has been an asset for the surrounding communities. It is a recreational space with the capacity for diverse activities.
The surrounding communities come together to share this space. Families, group of friends, visitors and athletes can be seen regularly in the area. Democratic landscape analysis and asessment: People are making use of the space but there's a lot more potential for the regatta course and the actors involved. It is mainly surrounded by agricultural land. There are picturesque fields, forests, green hedges around regatta. However, regatta complex looks separated from landscape and not available for everyone. A renovation to some areas (bike paths, cafeteria, bathrooms) is well needed, designated areas for the current activities taking place and a new proposal to make this beautiful space grow with the communities.
add the corresponding visual from your presentation to the image gallery below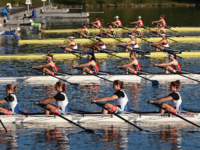 The Actors in your Story of Analysis
- Workers of the regatta
- Regatta Buro
- Families
- Athletes
- Visitors
- Dogs
add the corresponding visual from your presentation to the image gallery below
The Story of Analysis
Sofie and Franzishka are two women living in Munich. Franzishka still works, and Sofie is already retired. They like to spend their freetime in active way, and often go for walks or cycling together.
When Franzishka and Sofie decided to cycle out of Munich to the regatta, they checked the location at home. They live in Munich for a long and feel themselves pretty comfortably orientated in the area. But at one point of their journey they got confused because of many similar town buildings. They want to ensure the direction and ask passer-bys, because they don't have internet and haven't seen any signs. They ride for a couple of km on the same road together with pedestrians and strain their hearing in order to slow down to let another car pass.
They cycle by beautiful fields with groups of vegetation and enjoy the view, willing to go into the most field. On the way they want sometimes to have a rest, repack their clothes and refresh with water, and they do all this on the roadside. Finally they see the turn and realise that they have reached the destination: many people also turn this way. They dismount from bicycles, because the entrance is so narrow and they need to wait for others to pass. Youngsters willingfully continue their bike riding, but respected ladies prefer to be careful - the slope is too steep for them. Sofie tells Fanny: 'The entrance from this side is definitely not for wheelchairs'. 'Ja'.
They restart riding when they are on the Regatta level. Now, when there are no championships, nothing can achieve their interest: the territory is pretty empty with facilities, and the local Beach resort, where they could have delicious cocktails, is closed. They just wanted to see the pictures of their youth again - Franzishka remembers regatta as it used to be 30 years ago, when she first came to cheer up for her husband there. Nowadays some of the outbuildings don't function and look abandoned.
A lot of people of all ages chill near regatta, so old ladies come to lake - they feel here much more comfortable. They see a couple who play domino on the bench - and go further to look for another one. They really like the place and would like to come here more often, with their grandchildren, and want to feel more connected with the beauty of nature - for having something apart from picnics.
add the corresponding visual from your presentation to the image gallery below
add as many additional images as you like
Reflect on your Story of Analysis
Checklist and mental map (investigation of site, attractive points, minuses, what people like/don't like and why), how actors behave there, what do they want from this place
Calming and evoking- Children's exciting neighborhood exploration* We would like to involve kids from the surrounding towns in the study area. Plan cooperative activities that develop the area as well as strengthens links in the community. "These activities help identify local resources and show them in a new light and can even lead to neighborhood improvements". (la Pena et al., 2017, pp. 115)
Engaging the making- Pallet Furniture. Through a hands-on approach, participants contribute their skills and acquire new ones. This creates Places that are distinctly locally made, expressing unique identities with beauty shared by insiders". (la Pena et al., 2017, pp. 207)
Co-generating "... community members and various stakeholders generate designs through active collaboration and critical exchange". (la Pena et al., 2017, pp. 165)
We want to create an emotional connection between the actors and the space. Our proposal is to develop activities run by the community for the community. This will not only help develop emotional links to the area but contribute to the social growth within the community. Furthermore, it could help the area evolve alongside the community instead of being "left behind".
add the corresponding visual from your presentation to the image gallery below
Phase C: Collaborative Visioning and Goal Setting
The Scene in your Story of Visioning
Provide better access to site (transportation, routes, bus stops, navigation signs, slopes with ramps, etc.);
Renovation of existing pathways;
Solve the conflict between athletes and other users by having designated areas for each;
Provision of more economical opportunities for the locals;
Provision of more blue/green infrastructure- related activities;
More involvement of users and stakeholders.
The Actors in your Story of Visioning
Sofie, retired woman with bicycle (beer garten)
Owner of the tennis center (tennis center)
Seasonal seller (near regatta beah resort)
Father and son walking
The Story of Visioning
Our main goals are:
Good health and well-being
Affordable and clean energy
Decent work and economic growth
Industry, innovation and infrastructure
Sustainable cities and communities
Life on land
The steps in which we have taken into account for prioritizing our goals: Assessed its current situation; Listed all the challenges First Ideas + Summarized ideas; SDG map; Summarized challenges via Mural platform; 4 final challenges and the most important goals finalized.
1. What are the main areas of dissatisfaction in your site?
Difficult accessibility to the site, no proper pathways for the different users. Low involvement with the area (with current green/blue infrastructure). No visible involvement from the community to the site, or local stakeholders.
2. What are the most important visions of potential change? The use of current natural infrastructure and the impact it could have to the local economy in the surrounding cities. And the subsequent effect on other human aspects; health, social, educational…
3. What are the first steps that could initiate democratic change? Noticeable involvement in the area to initiate conversations and relationships with the communities.
4. What might be the potential of resistance? The overlook to foreign people getting involve, stakeholders reluctant to cooperate.
5. Who might be the drivers/actors or democratic change? The communities and different users involved in the project, the more people get involve leads to higher attention to the are which could result in; pressure for the stakeholders it would highlight the important of the investment
What is the visualization, the actual vision, that expresses the synthesis of these prioritized goals? Slide 2
What is the strategy that was built for attaining one of these goals, the three year plan of action? Slide 3
add the corresponding visual from your presentation to the image gallery below
Reflect on your Story of Visioning
What do you think needs to be considered when formulating goals?
Articulate a vision and a mission
Identify your stakeholders
Scan your internal environment
Assess your external environment
Combine the strengths, weaknesses, opportunities and threats (SWOT) assessment into a single analysis
Define your competitive advantage
Make SMART goals
Account for your personal and business goals
Determine action steps
What do you think are the characteristics of a 'good' vision?
Brevity
Clarity
Abstract and Challenging
States the Organization's Purpose
Future Focused
Sets a Desirable Goal
Matches the Organization's Success Measures
and most importantly one with SMART indicators!
Phase D: Collaborative Design, Transformation and Planning
Your Prototyping Action
What was your prototyping action? What does it represent and how does it relate to your vision from Phase C?
What we want to know:
What are the expectations of the community from Regatta course?
What activities to be brought?
What are the improvements to be implemented in the area?
This intervention is to realize the ways we can improve the community's livelihoods as well as wellbeing. It would be a starting point to gather the communities' attention to the area and start our relationship with the community.
The Evolution of Your Prototyping Action
We all developed an idea individually, we discussed our thoughts and realize we worked from different approaches;
Satisfaction of the area
Future plans
Invitation to the area Finally we evaluated the importance of gathering all this data and developed a unified intervention.
Several meetings, prioritize the goals and assess the challenges of gathering people's attention and starting conversations with the community.
The Plan Behind Your Prototyping Action
Materials and HRs needed:
wooden pallets + paper rolls = installation color chalk & candy bars = future activities + satisfaction installation plants = invitation to visit the area Place available for the plants!
Making them available through: Negotiate with local businesses, government, university, ourselves. Action plan and roles: Agreements from: Government officials/ municipality, universities, schools, regatta officials
Time Frame: Two weekends (friday/sat/sun) -> assess results and decide what's next! One person in charge of each activity, one supervisor, and a rotation in roles every 2 hours.
The Realization of Your Prototyping Action
Community
Locals
Regatta officials
Professors / Tutors

Someone to help us out! US
How did you feel? Nervous Excited Afraid Happy (:(
add the corresponding visual from your presentation to the image gallery below
Reflect on Your Prototyping Action
Ideally how is the intervention going to make a chance?
It would help us establish a relationship and conversation with the community. It would help us get involved.
How does your intervention reflect the lectures & literature from phase D? We are trying to start the collaborative design process with the community through creative activities in which we can assess their needs for their landscape.
How do you measure the level of the performance? (how do your indicators of success work?)
No. of people participating
No. of people taking candy from the tube (level of happiness)
No. of people visiting the area with their plants
Where relationships established?
add the corresponding visual from your presentation to the image gallery below
Phase E: Collaborative Evaluation and Future Agendas
Collaborative Evaluation and Landscape Democracy Reflection
Initial Landscape Democracy Challenge
Living Lab: Regatta course The initial LD challenge: Accessibility of landscape for all users, better involvement of stakeholders and users We all had different approaches, so it helped to share different points of view from different perspectives Where are you in the process of addressing this LD challenge? We all developed an idea individually, we discussed our thoughts and realized we worked from different approaches; Satisfaction of the area Future plans Invitation to the area Finally we evaluated the importance of gathering all this data and developed a unified intervention. '' Our sustainable development goals are:
The Actors in your Collaborative Evaluation
''Each member is satisfied, because everybody has his individual approach to work and brought his unique vision of the project, gaining to learn from each other.
== Lessons learnt

The lectures and practical assignments supplemented each other, working as a good material to learn from.
COVID-19 pushed us to find other ways to communicate, to get the knowledge about each other, it gave the possibility to see how the world can change and though the processes of it still are going on.
Course phases went step by step, helping to feel the process of creating democratic project. Did the content/course phases come together coherently throughout the seminar. The assignments helped to implement the structure of analysis approaches in practice. Also they helped to look on the design process from different dimensions, understanding the stakeholders better and understand how we can organize the process by ourselves
v
Reflection of the Living Lab Process
''The greatest output was to imagine the needs of the actors, to put ourselves in their shoes
Due to COVID-19, Living lab activities had to be imagined;) Though we managed to visit the site, of course with limitations of communication and evaluation of real activities that happen in normal life.
What indicators did you or would you use to measure the performance?
No. of people participating No. of people taking candy from the tube (level of happiness) No. of people visiting the area with their plants Whether relationships were established? Impact that we expect from the community: to know the community and learn its needs to satisfy the needs and come to economic growth ''
add the corresponding visual from your presentation to the image gallery below
Your Living Lab Code of Conduct
''Everybody should have equal access
There should always be an opportunity for people to propose their ideas.
What were the main values driving your Living Lab? honesty patience creativity easy access for everyone job opportunities equality active participation
The top ground rules for future: Considering all stakeholders and their interests Using participatory design Providing community with tools and options for designing, but not giving ready decisions
''
Process Reflection
What have we learned as a group?
Addressing landscape democracy challenge is always about thinking and doing for actors, regarding their real needs, going really deep in their stories, looking on things with their eyes.
Lessons and useful knowledge for each team member:
The power of community participation for landscape development and design. How this method can help satisfy the community's needs and increase cultural value of landscape.
Learning about the prototypes and its powerful opportunities
Importance of the creative approaches to the communities Power of SMART goals
This seminar was actually showing the relation between work and studies
What might be the most important next step or action for your Living Lab?
The most important next step could be inviting actors and connecting them in the process of decision-making. For bringing change into the community and run the protect we need to start working on getting resources (finantial, social)
---