Concept Map Landscape and Democracy
Jump to navigation
Jump to search
The terminology exercise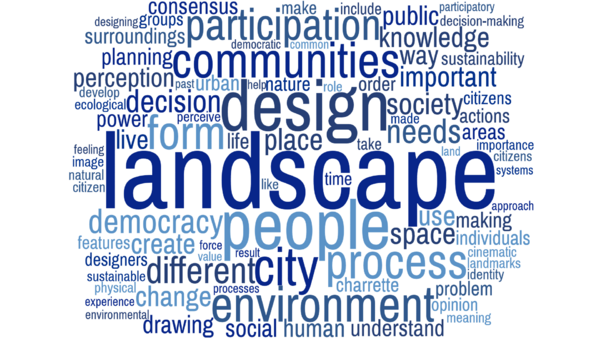 by Eliza Salman
LED seminar participants were assigned a terminology exercise and provided a series of readings related to five different themes:
Landscape and Democracy – Mapping the terrain
Concepts of participation
Community and identity
Designing
Communicating a vision.
Each group was asked to cover at least one reading from each theme. Furthermore, each participant was asked to synthesize three core concepts from the readings and, as a group, discuss and join their concepts into one comprehensive concept in 250 words. This exercise indicated the reading and comprehension capacity of the participants in terms related to the landscape and democracy that shall later be used in practice demonstrated by their use of the concepts in developing a change process.
The results of the exercise were analysed and categorised based on concept definitions and the repetition of these concepts. Later these definitions were used to create a word cloud highlighting the most-used terms in the participant's collective output.
As may be anticipated from a reading exercise related to a landscape and democracy seminar, the terms landscape, people, design and community were the most frequently repeated words. However, less frequently but indeed relevant terms of ecology, nature and sustainability as an essential part of the landscape also emerge. Further terms indicate the process's correlation to actions, some related to reading the landscape (perceive, understand, include), others related to design and creation process (plan, draw, develop) while more terms related to the qualities of change and liveable placemaking (make, change, live). Moreover, terms related to people (Groups, Individuals, Citizens, designers, community society), place (nature, city, land, space, surroundings, environment, landmarks) in addition to time (past and present)were highlighted as well.
In essence, these terms indicate the general line of thought of the participants towards the link between people, with their place from the past through the present and into the future, in a process where different stakeholders adopt actions to bring about qualities of identity, sense of place and spatial and ecological justice in the landscape in its different forms.
However isolated the concepts chosen by the students were, due to the fact that the students had worked individually for most of the exercise, assembled (from the concepts gathered by the 2017 online seminar participants) they form a holistic overview of the relationship between the concepts of Landscape and Democracy.
Additionally, the interrelation of landscape and democracy to meanings of identity, community, nature, place and roles of different stakeholders emerges, as can be observed in the concept map which was created from the synthesis of the concepts written by the participants. This indicated a collective understanding of the meaning of landscape and democracy and the complicated relationship between them.
English Concept Map: The Relation of Landscape and Democracy

Hungarian Concept Map: The Relation of Landscape and Democracy

German Concept Map: The Relation of Landscape and Democracy
translation: Diedrich Bruns, Ellen Fetzer